Pastor Marcus Small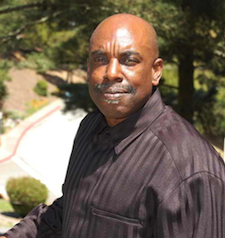 Senior Pastor Marcus Small is the son of the late Fred Small. Pastor Marcus grew up attending the Marin City Church of God (also called as of January 2005 "People's Inter-Cities Fellowship").
On May 15, 2013, Pastor Marcus became Senior Pastor of People's Inter-Cities Fellowship (PICF) after his father went home to be with the Lord.  
Pastor Marcus grew up in Marin City where he attended the local schools. He graduated from Redwood High School in 1979 and then attended the local community college, College of Marin (COM). Pastor Marcus graduated from COM with an AA degree in the Behavioral Sciences in 1981 and then transferred to San Francisco State University (SFSU) where he received his BA degree in Psychology in 1984. While attending COM & SFSU, Pastor Marcus was also taking Bible classes at the Southern Marin Bible Institute, where his brother-in-law, Pastor Dr. Emmanuel Akognon (pronounced Akoy yon) is the founder. In 1985, Pastor Marcus was accepted into the Clinical Psychology Program at SFSU where he graduated in 1987 with a M.S. in Clinical Psychology. In 1990, he was licensed as a Marriage & Family Therapist in the state of CA.
In 1987 Pastor Marcus was licensed as a Minister in the Church of God and in 1997 he was ordained by the Interstate Association of the Church of God.
Pastor Marcus recalls that it was not always easy growing up as a preacher's kid, but says he has no regrets and is so glad that God allowed him the privilege of having parents who loved God and loved the family. Pastor Marcus accepted the Lord as a teenager one Sunday morning when Pastor Pointer delivered the message that day. Pastor Marcus says that he was the only one at the altar that morning (which almost lead to him not moving out of his seat) but the Lord helped him to overcome his fear. "I felt so different and I couldn't stop crying. I know that God changed my life that morning" Pastor Marcus says.
Pastor Marcus loves the Lord and loves serving in ministry. In addition to his role as Senior Pastor, he currently plays the organ for the church after initially starting off playing the drums.
Pastor Marcus is married to Melanie Small (Warren) and they have two children, Quinlan and Sherrell. Marcus, his wife and daughter live in Rohnert Park; his son, Quinlan, recently married Chelsea Black of Medford Oregon in July of 2013; Quinlan currently resides in Oregon with his wife Chelsea.
You may contact Pastor Marcus Small on his cell phone 707-322-4971; email Pastor Marcus at marcus@restorativepractice.org