The Late Pastor Fred Small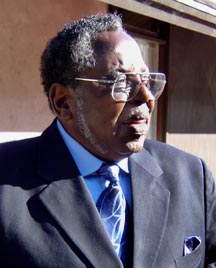 The late Pastor Fred Small went home to be with the Lord on Wednesday, May 15, 2013. Pastor Small was diagnosed with a condition known as "Idiopathic Pulmonary Fibrosis" which is a hardening or thickening of the lungs; there is no cure for this condition. Pastor Small's health declined rapidly before being diagnosed with pulmonary fibrosis and when the diagnosis came he passed in less than two months after being told that he may have anywhere from four months to a year to live. He was excited with the thought of going home to be with the Lord.  When I asked my father one day when we were alone talking if he was excited about going to Heaven, he smiled and said "Yes;" he was so excited about seeing the Lord and all the other saints that had preceded him in death.  One of the great things about my dad and pastor was his love for people.  When my siblings and I were growing up, all people were welcomed to come to our house on Sundays for dinner. This tradition continued each Sunday right up until the time that he passed. You could always find people enjoying sports, talking, eating, telling jokes, playing bid whist, getting into deep theological discussions and the list goes on and on.
Pastor Small's love for the Lord, kept him serving God faithfully; he served as Senior Pastor of People's Inter-Cities Fellowship (formerly known as Marin City Church of God) for more than 54 years.
In Early 1954, (his words) he married "his life-long sweetheart Cleola Lucille Jones." After 50 years of marriage, she went to be with the Lord her Savior on her birthday November 2, 2004. Together they raised four children: Ronnie Small, Alfreda Akognon, Robin Krueger and Marcus Small - who is now serving as Senior Pastor of People's Inter-Cities Fellowship (PICF). In 2007, Pastor Fred Small married Evelyn R. Clark.
Pastor Small wrote a book about his life and it is only by the grace of God that he survived his childhood and lived to be 82 years of age. Clearly God had a plan for his life and there are many people who loved him and benefited from the ministry that God gave him.
If you would like a copy of his book titled "Destiny By Design" you may contact Pastor Marcus Small at (CH #) 415-332-9913, or by calling Pastor Marcus' cell phone at 707-322-4971; books may be purchased for $25.00. Checks should be made payable to "Fred Small Trust" and checks or money orders mailed to PICF Attn: Pastor Marcus Small PO Box 1360 Sausalito, CA 94966.